Happy April!
Hello Twister families! Spring has sprung, April is here, and it's National Autism Awareness Month. It is in our philosophy at Twisters that, "we welcome all children at all times" and we wanted to take a moment to express that we always welcome our students with Autism and Asperger's syndrome with open arms.

What is Autism?
Per the CDC: "Autism spectrum disorder (ASD) is a developmental disability caused by differences in the brain. People with ASD often have problems with social communication and interaction, and restricted or repetitive behaviors or interests. People with ASD may also have different ways of learning, moving, or paying attention. It is important to note that some people without ASD might also have some of these symptoms. But for people with ASD, these characteristics can make life very challenging."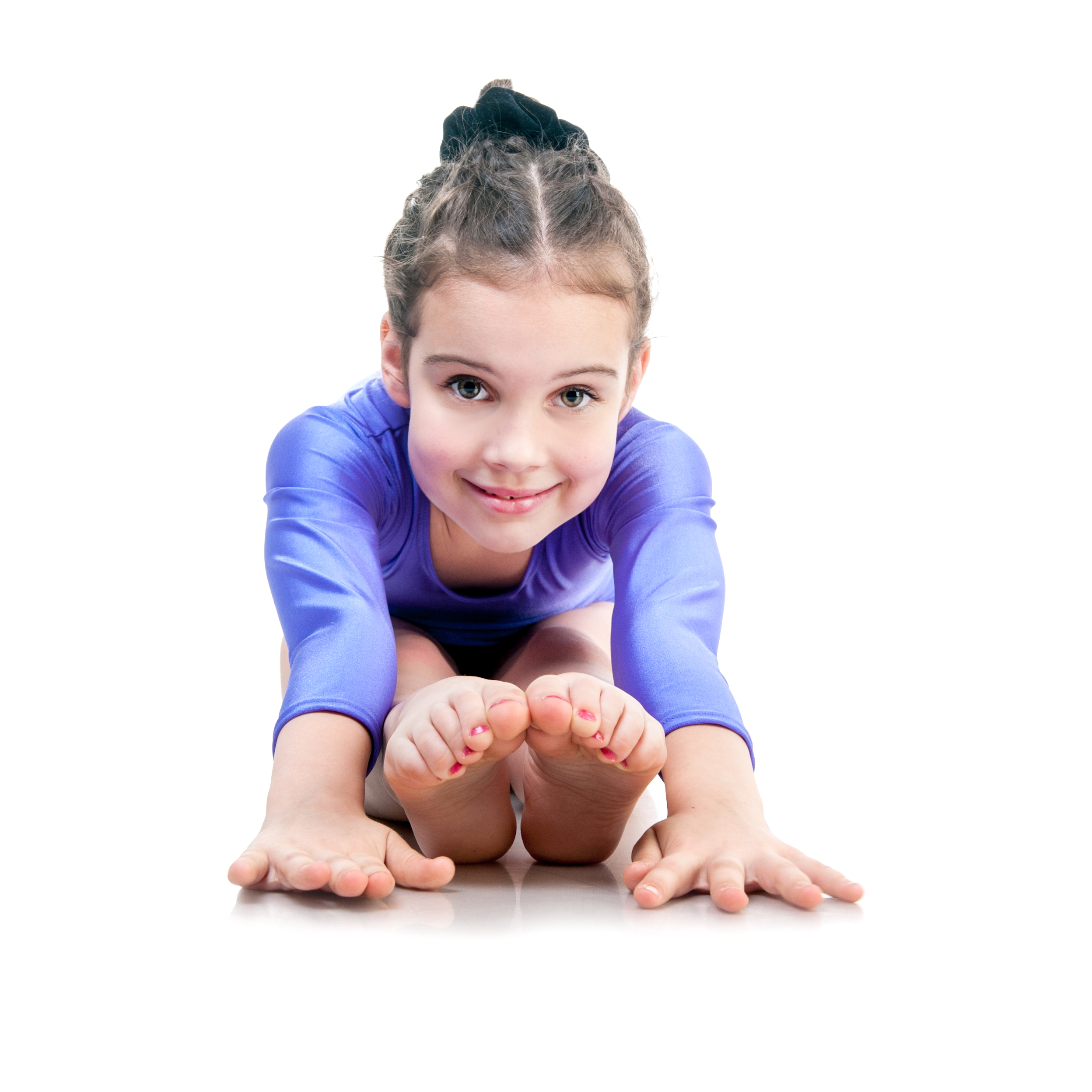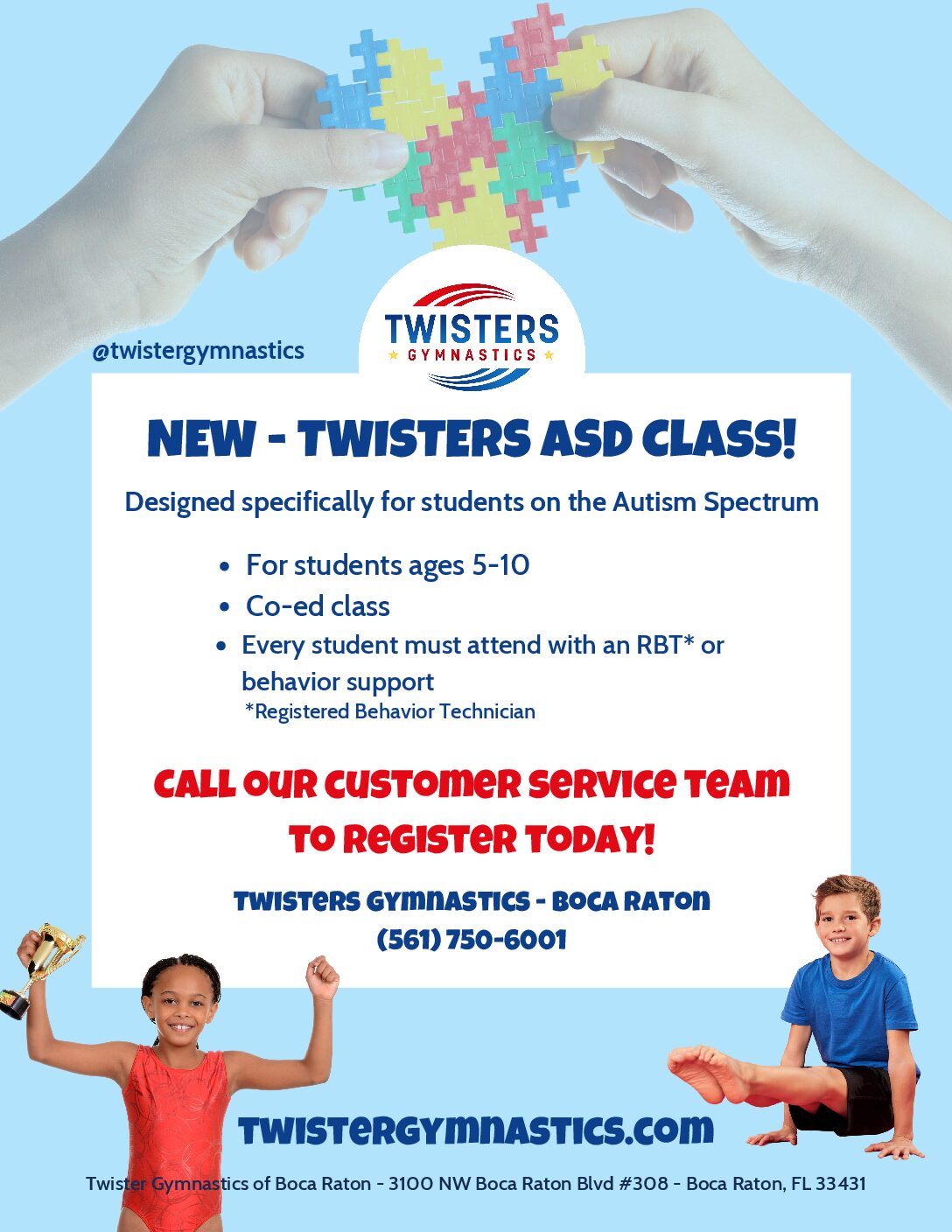 Does Twisters Offer a Class for Students with Autism?
Twisters is proud to offer a specialized class for students with Autism at our Boca Raton location. This class was developed with a Board Certified Behavior Analyst, a Registered Behavior Technician and a parent of an autistic child to adapt the class to better support autistic individuals. The environment will be adapted to include tools such as visual supports and a token board to set learners up for success. The instructor teaching the class has also learned about how autistic individuals may react to the gymnastics equipment through engaging in sensory-seeking behavior or sensory-defensive behavior.
What is a token board?
A token board is a visual that denotes progress on a task through providing the learner with tokens. At Twisters, learners participating in the class will receive a sticker after completing each activity on their schedule. Once they complete their token board, they get to earn time on the pirate ship AND a special snack!
What are visual supports?
Visual supports are pictures and diagrams that provide a visual representation of verbal information. Sometimes, autistic individuals have an easier time attending to visual information than to verbal information. While this does not apply to ALL autistic individuals, Twisters has included visual supports in their class to support those who need it.
The Twisters ASD Class is for students ages 5-10. It's a co-ed class, and students must attend the class with an RBT (Registered Behavior Technician) or behavior support. For more information or to register, call our Boca Raton location at (561) 750-6001 and our friendly customer service staff will be happy to assist you and answer any questions you may have.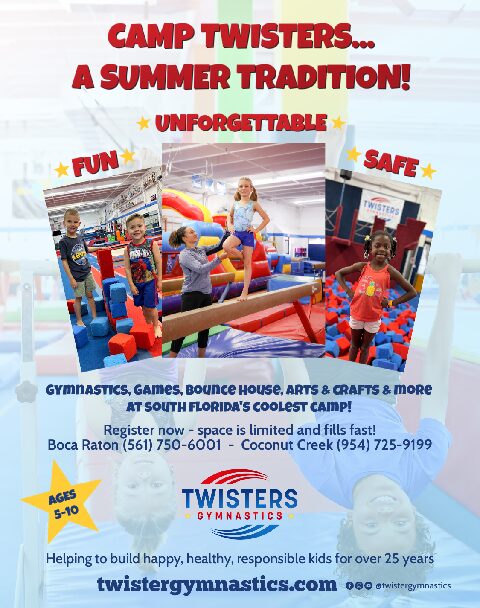 Since Spring has arrived, the gyms have been bursting with excitement from classes, parties and camps PLUS our team gymnasts having some incredible successes this championship season (more to come on that in a new blog soon – stay tuned!) We enjoyed a super-fun week of Spring Camp over Spring Break, with the gyms buzzing with gymnastics, games, arts and crafts and more. Camp filled quickly at both locations, and was an awesome preview of the fun that's to come this summer! Early bird registration for Summer Camp ends soon, so be sure to register now to save money AND your spot in camp.

Wishing our Twisters gymnasts and families a happy, healthy April, happy spring holidays and continued success in our championship season. Wishing our team gymnasts the very best of luck at Regionals and Nationals and so excited to share more about their successes with you very soon!
Keep Twistin'!